Simple
The main reason that about 60% of all the world's websites today are powered by WordPress is the simplicity. From the very beginning, WordPress has been developed for users without technical experience who want to get started with web publishing as quickly as possible.

Themes
There are a several of ready-made themes to start from when you build your website. Most are free but some cost a small amount, but for that you get a guarantee that it is good quality. You can also hire us and we will help you to choose the right theme for your website – or customize an existing – entirely according to your wishes. Contact us and we will tell you more.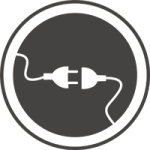 Plugins
One of WordPress's biggest strengths is all the extensions you can install. If you are missing something in WordPress, someone else has probably already thought about it and developed a solution that you can use. Many plugins are free but there are also companies that offer commercial plugins with a well-functioning support.